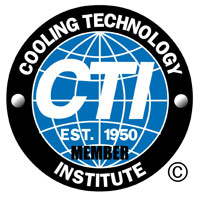 REKO PRAHA, a.s. is a specialized building company for the design, construction, repair and service of atmospheric cooling towers of all types. Cooling towers are usually supplied on the "turnkey" basis. For cooling towers with natural draft and forced draft cooling towers, the company makes project documentation of all levels with its own design, including heating technology, hydraulic and static calculations.
The company produces and supplies its own cooling technology components such as the cooling fill, spray nozzles and eliminators. Load-bearing structures of cooling towers are made of reinforced concrete, steel as well as composite profiles according to the customer's wishes.
If required, REKO PRAHA supplies cooling towers including cooling circuits, pumping stations of cooling water and other equipment.
REKO Praha has been a member of the professional organization Cooling Technology Institute (CTI) since 2009.
We offer:
Consultancy in choosing cooling tower solutions and feasibility studies
Cooling tower design and calculations
Project documentation of all levels
"Turnkey" cooling tower construction
Project management and supervision
Facility commissioning including tests
Operator training and technical assistance during equipment operation
Warranty and post-warranty service
Partial and general repairs of the existing facilities
Supply of cooling technology